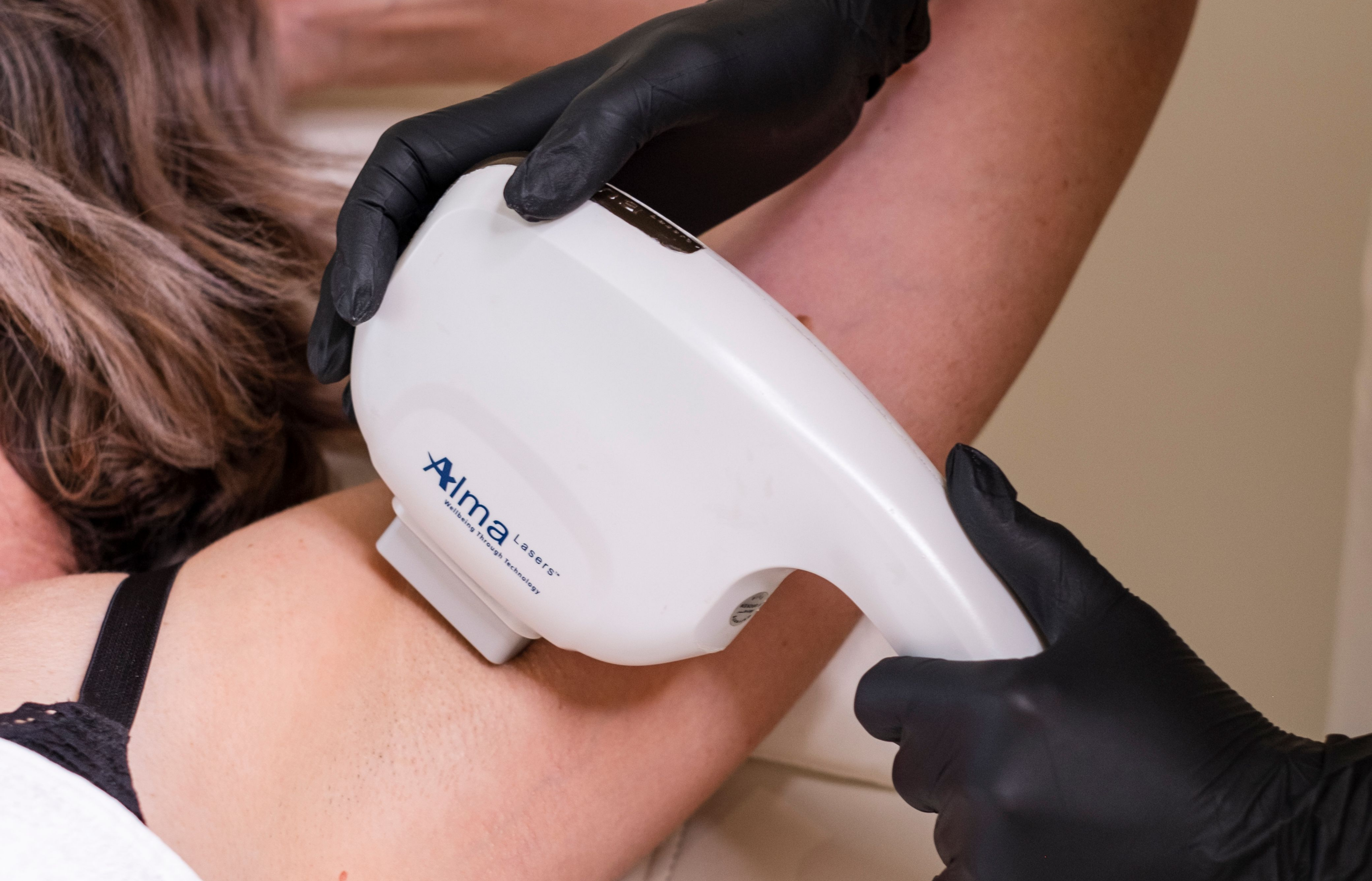 Intense Pulse Light Hair Reduction
A reduction in the number of hairs can be seen after each treatment with up to an 80% reduction of hairs in the area. Permanent hair reduction will reduce the need for waxing, shaving, plucking and tweezing.
Number of Treatments Required: 6 -10 treatments
Spacing Between Treatments: 4 – 6 weeks apart
Frequently Asked Questions
How does IPL hair reduction work?
The light from a handpiece penetrates the top layer of skin with a multiple wavelengths (Intense Pulse Light) targeting melanin which is the brown coloured pigment contained in the hair follicle. This process damages the cells responsible for growing a new hair which reside in the base of the hair follicle.
What are the benefits of IPL hair reduction?
By using IPL hair reduction as a method of permanent hair reduction people experience less ingrown hairs, less shaving stubble and smoother skin. A lot less time and money is spent on shaving, waxing, plucking or bleaching the hairs after they have undergone the treatments.
How do I prepare for my treatment?
When planning for IPL hair removal, you should avoid plucking, waxing, and electrolysis for six weeks before treatment. The IPL targets the hairs' roots, which are temporarily removed by waxing or plucking.
Just before the treatment, the hair to be destroyed will be trimmed to a few millimetres above the skin surface. The IPL equipment will be adjusted according to the colour, thickness, and location of your hair being treated as well as your skin colour.
Downtime
Patients generally experience minimal discomfort after treatment; however, some can experience some tenderness, swelling or discomfort. This can be relieved by applying ice to the area.
What to avoid after your treatment:
+ Exercise or excessive sweating (saunas, steam rooms, etc) for 24-48 hour
+ Direct UV exposure
Pricing
Have more questions?
Get in touch today for a complimentary consultation.