A non-invasive way to sculpt & contour the buttocks
A Non-Surgical Butt Lift is a simple procedure that improves the size, shape and contour of the buttocks using Collagen Stimulator Injections (also known as Biostimulators).
Butt injections are an option for those who either don't want to undergo a Brazilian Butt Lift or butt implant surgery, or who aren't candidates for surgery.
A Non-Surgical Butt Lift Can Improve:
+ The general shape of your butt
+ Hip dips and hollow areas
+ Stretch marks and cellulite
+ The size of your buttocks
+ The quality of the buttock skin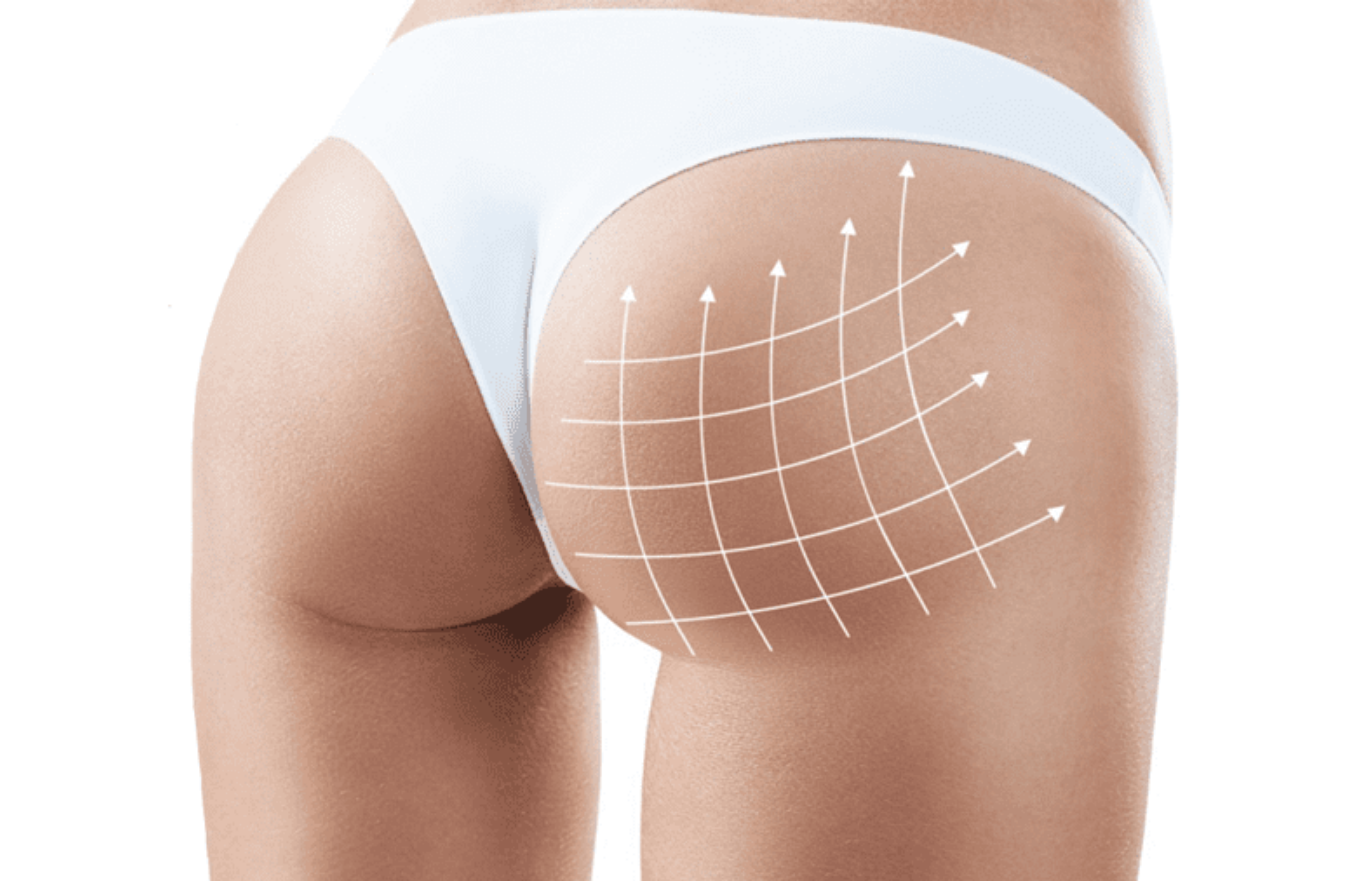 Frequently Asked Questions
What are Collagen Stimulating injections?
The cosmetic injections are compromised of a collagen stimulating product called Poly-L-Lactic Acid. Due to strict Australian TGA rules regarding advertising prescription medications, we are unable to name the brand of collagen stimulator used at Face and Body Inc.
Since collagen is the protein that gives your skin its structure and shape, Collagen Stimulating injections help to tighten, lift and volumise sagging buttock tissues. They help to fill out the area under your butt with a curved shape that fits with your natural body type. 
This unique treatment works by targeted injections of this collagen stimulating product into the subcutaneous tissue layers of the buttocks, causing an initial volumisation, thickening of the skin, followed by a gradual lifting of the buttocks over the next 6-12 weeks.
Read more about Collagen Stimulators
Non-Surgical Butt Lift VS Brazilian Butt Lift
A Non-Surgical Butt Lift is far less dangerous than other forms of buttock augmentation, such as Brazilian butt lift and butt implants. The results of a non-surgical butt lift may be less dramatic, and they are temporary. The non-surgical butt lift is safer and less expensive.
If you aren't happy with the result of a non-surgical butt lift, you can have more product injected a few months after your initial treatment. If you think the results don't look natural or aren't what you had in mind, the treatment will wear off within 2 years.
Other buttock augmentation treatment options give you permanent results.
How long does it last?
You will see results immediately and lasting up to 2 years. 
When building on top of the product with multiple sessions you can expect to see this last much longer.
How many treatments are required?
It's dependent on the individual but we say optimum results are achieved with 2 – 4 sessions.
Treatments should be 4-6 weeks apart.
Who is a suitable candidate for this treatment?
This treatment is ideal for patients that are seeking to naturally sculpt and shape their buttocks or correct hip dips and do not want to undergo a surgical procedure.
Does it hurt?
A Non-Surgical Butt Lift has minimal pain and discomfort. A local anaesthetic block and/or topical numbing is applied to ensure there is minimal discomfort. 
Possible post-treatment side effects include; tenderness or pain, bruising, redness or swelling which will subside within 2-7 days of treatment.
Downtime
+ Allow up to 7 days for tenderness, bruising, redness or swelling
+ Avoid sitting down for 24 hours post treatment
+ No exercise for 24 hours post treatment
+ No intense buttock exercises for 3 weeks post treatment
+ No excessive sweating (saunas / steam) for 24 hours post treatment
+ No body product application for 24 hours post treatment
Pricing
Price is dependent on the individual and what they are trying to achieve. A full quote is provided at consultation. 
From: $3000 (minimum 4 vials) 
Packages: ($700 per vial)
+ 6 vials | $4200
+ 8 vials | $5600
+ 10 vials | $6500
+ 12 vials | $7800
Have more questions?
Get in touch today for a complimentary consultation.